European Cinema Night: The Traitor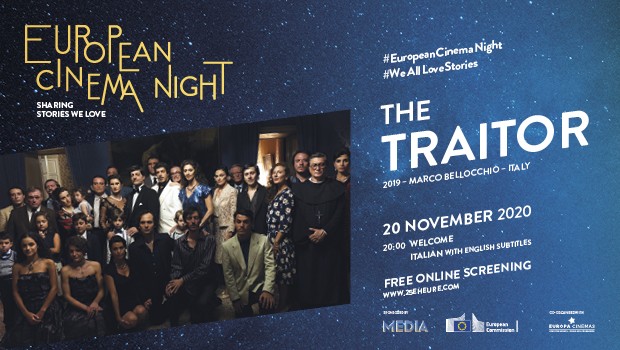 Opens Fri Nov 20 2020
Coming Soon
Share This Page
Info
152 minutes
Director: Marco Bellocchio
Cast: Pierfrancesco Favino, Maria Fernanda Cândido, Fabrizio Ferracane, Fausto Russo Alesi, Luigi Lo Cascio
Italy/France/Germany/Brazil (2019)
This film is subtitled
Synopsis
Screening online for free as part of Creative Europe MEDIA and Europa Cinemas' European Cinema Night, The Traitor is an award-winning film that tells the true story of the man who brought down the Mafia.
Available to watch online for free from 8pm on Friday 20 November here
The Traitor tells the true story of Tommaso Buscetta, the man who brought down the Cosa Nostra. In the early 1980's, an all out war rages between Sicilian mafia bosses over the heroin trade. Tommaso Buscetta, a made man, flees to hide out in Brazil. Back home, scores are being settled and Buscetta watches from afar as his sons and brother are killed in Palermo, knowing he may be next. Arrested and extradited to Italy by the Brazilian police, Buscetta makes a decision that will change everything for the Mafia: He decides to meet with Judge Giovanni Falcone and betray the eternal vow he made to the Cosa Nostra.
European Cinema Night is supported by the European Commission's Creative Europe MEDIA programme, in collaboration with Europa Cinemas. It is an event that will take place in 70 cities accross Europe with the aim of celebrating the richness of European Cinema together.
To watch the film create an account here. It will be available to watch from 8pm UK time on Friday 20 November (the link is coming from Europe and shows a 9pm Central European Time). The screening is free but spaces are limited so please sign up in advance.
Awards & Accolades for The Traitor
Cannes Film Festival - Official Competition
BFI London Film Festival - Official Selection
Italian entry for the Best International Feature Film at the 92nd Academy Awards
Four nominations at the 32nd European Film Awards
Six awards at 65 David di Donatello Awards - including Best Film, Best Director and Best Actor
UK Release supported by Creative Europe / MEDIA
Reviews
"Show-stopping! A big, bold true-crime gangster movie"
— The Guardian
"Dazzling. One of the most revealing portraits of the Cosa Nostra on film"
— The Hollywood Reporter
"Ultra-dark humour [deployed] to full effect"
— Sight & Sound: Film of the Month