Short Film Club: Cannes comes to the Phoenix!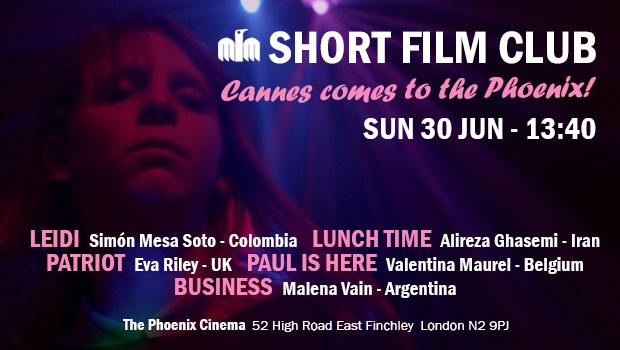 Book Tickets
Click a time to book tickets
Info

Please be aware that there are no trailers before the performance.

Synopsis

Short Film Club: Cannes comes to the Phoenix! Five Cinefondation films about women presented by filmmaker Fateme Ahmadi.




LEIDI - 2014 - Simón Mesa Soto - Colombia - 16mins

A girl lives with her mum and her baby. Her boyfriend hasn't shown up in days. When she hears from a friend that he's started a new relationship, she embarks on a journey to find him.




LUNCH TIME - 2017 - Alireza Ghasemi - Iran - 15mins

A 16-year-old girl has come to the hospital to identify the body of her mother. The people in charge at the hospital – due to her young age – won't let her into the morgue and ask her to bring her guardian instead. However, the girl insists that most of her family is in jail for criminal activities. Finally, after her insistence, they agree to let her into the morgue...




PATRIOT - 2015 - Eva Riley - UK - 15 mins

Against the backdrop of simmering racial tensions within her rural English town, the life of eleven year old Hannah changes forever when she meets a boy from a mysterious and forbidden world.




PAUL IS HERE - 2016 - Valentina Maurel - Belgium - 24mins

Paul is here. Like a step backwards, like a ghost knocking at the door. He is here, and his annoying presence will disrupt Jeanne's everyday life.




BUSINESS - 2015 - Malena Vain - Argentina - 20mins

A girl, alongside her guitar, reunites with her father in a hotel room. He's a businessman on a visit to Argentina, the country he once called home. She's back from playing at a concert. Night falls between those four white walls until the sun rises again.