Today
January, 2022
February, 2022

| | | | | | | |
| --- | --- | --- | --- | --- | --- | --- |
| M | T | W | T | F | S | S |
| 27 | 28 | 29 | 30 | 31 | 1 | 2 |
| 3 | 4 | 5 | 6 | 7 | 8 | 9 |
| 10 | 11 | 12 | 13 | 14 | 15 | 16 |
| 17 | 18 | 19 | 20 | 21 | 22 | 23 |
| 24 | 25 | 26 | 27 | 28 | 29 | 30 |
| 31 | 1 | 2 | 3 | 4 | 5 | 6 |

Next Month >
---
BELFAST (12A)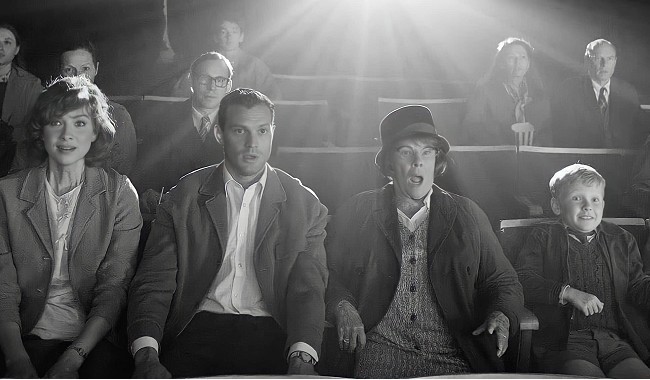 The humorous, tender and very personal story of growing up in a world turned upside down by sectarian violence, BELFAST is prolific actor-writer-director Kenneth Branagh's portrait of family life in the city of his birth set amid the tumult of the late-1960s.
Young Buddy dreams of a glamorous future that will whisk him far from the Troubles, but, in the meantime, he finds consolation in his charismatic mother and father and his spry, tale-spinning grandparents. The wider stable and loving community may have changed forever but the laughter, mischief, and joys of coming-of-age still remain.
With its brilliant production design, black-and-white photography and outstanding ensemble cast, BELFAST is a joyous evocation of the time and the place and an inspirational tale, told with warmth and wit, about the power of love and family even in the darkest of times.
NIGHTMARE ALLEY (15)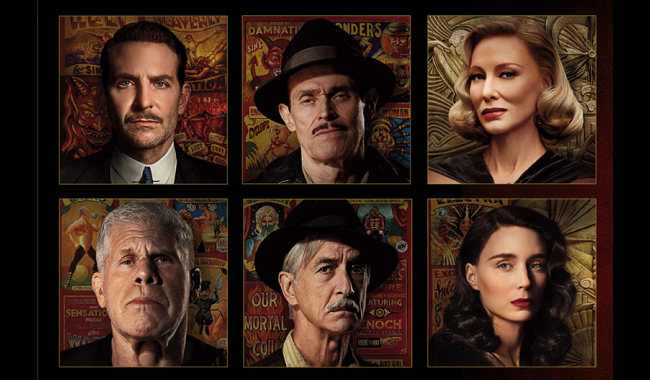 Guillermo Del Toro follows THE SHAPE OF WATER with a lavish reworking of a 1940's noir classic that follows the rise and fall of a charismatic conman in 1930s America.
The smooth talking and manipulative Stanton, a man running from his past, finds the perfect refuge in a travelling carnival. Liaisons with phony clairvoyant' Zeena and virtuously loyal Molly provide a golden ticket to success, but in the even more devious world of New York high society he has yet to meet mysterious psychiatrist Lilith. Will Stanton have met his most dangerous adversary?
An all star cast headed by Bradley Cooper, Cate Blanchett, Toni Collette and Rooney Mara bring depth and charisma to their characters and with some stand-out set pieces director Del Toro has once again produced a big screen visual and sensual feast.
Book Tickets
| | | |
| --- | --- | --- |
| Thursday 27 Jan 2022 | | 13:30 |
Parallel Mothers (15)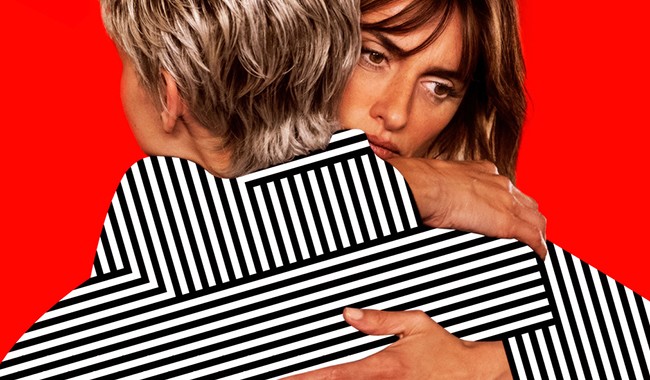 The latest from the distinctly wonderful, Pedro Almodovar is its own little bundle of joy - a twisting and turning tale of family, legacy, and memory.
Two women, both about to give birth meet in hospital. Neither pregnancy was planned but whereas one is exultant at the prospect of single motherhood, the other is terrified, unsure how she will ever cope. They exchange only a few words but that is just the beginning…
With great performances from Penelope Cruz and Milena Smit, PARALLEL MOTHERS finds Almodovar at his emotionally dramatic, gorgeously visual and eternally hopeful best with a tale of family, legacy, and memory that embraces life in all its many shades.