Today
January, 2022
February, 2022

| | | | | | | |
| --- | --- | --- | --- | --- | --- | --- |
| M | T | W | T | F | S | S |
| 27 | 28 | 29 | 30 | 31 | 1 | 2 |
| 3 | 4 | 5 | 6 | 7 | 8 | 9 |
| 10 | 11 | 12 | 13 | 14 | 15 | 16 |
| 17 | 18 | 19 | 20 | 21 | 22 | 23 |
| 24 | 25 | 26 | 27 | 28 | 29 | 30 |
| 31 | 1 | 2 | 3 | 4 | 5 | 6 |

Next Month >
---
NIGHTMARE ALLEY (15)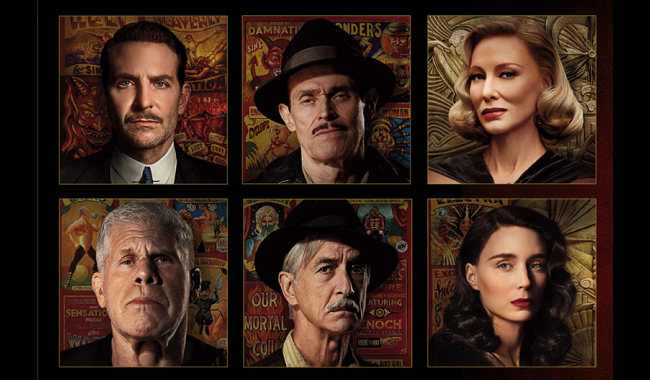 Guillermo Del Toro follows THE SHAPE OF WATER with a lavish reworking of a 1940's noir classic that follows the rise and fall of a charismatic conman in 1930s America.
The smooth talking and manipulative Stanton, a man running from his past, finds the perfect refuge in a travelling carnival. Liaisons with phony clairvoyant' Zeena and virtuously loyal Molly provide a golden ticket to success, but in the even more devious world of New York high society he has yet to meet mysterious psychiatrist Lilith. Will Stanton have met his most dangerous adversary?
An all star cast headed by Bradley Cooper, Cate Blanchett, Toni Collette and Rooney Mara bring depth and charisma to their characters and with some stand-out set pieces director Del Toro has once again produced a big screen visual and sensual feast.
Book Tickets
Wednesday 26 Jan 2022
19:30

(Closed)